GOOD NEWS TO THOSE WHO DIDN'T ATTAIN UNIVERSITY ENTRY GRADE.
The cabinet secretary Ezekiel Machogu on 20th of January 2023 announced the Kenya Certificate of Secondary Education examination results.
From his remarks, he noted that the 2022 candidates performed slightly better than the class of 2021. He also confirmed that there was no exam irregularities and that students did their best.
Well, quite a good number of students missed a chance to get an entry grade to University. The cabinet secretary on his speech during the release, he confirmed that KUCCPS will move with speed to ensure that all candidates are placed in other learning institutions to further their studies.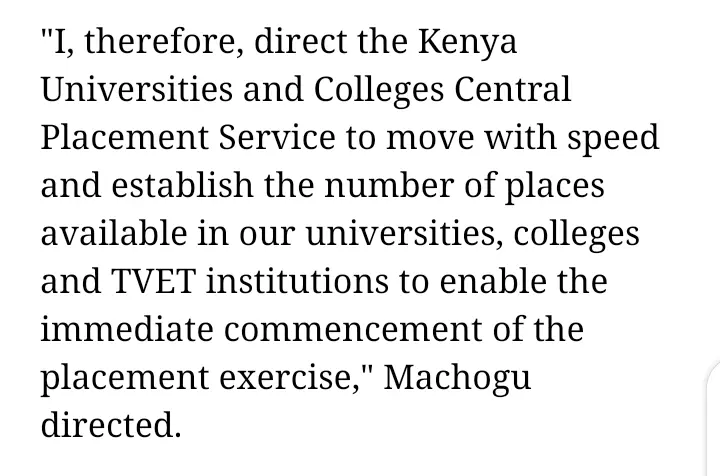 Good news to those who did not qualify to join University is that, there are many courses they can persue while at TVET institutions or Colleges.
For instance, teachers training colleges do admit students who scored grade C- and C plain. TVET institutions, do admit students with any grade in order to enable them further their studies.
Courses offered at the TVET institutions include; Agricultural engineering, Agricultural Machinery and Equipment, Air Cargo Management, Animation and digital media, Tour guiding and community Development, Disaster Management, Banking, Marketing, ICT Technician, Cyber Security among many others.
I will inform you when KUCCPS open their portal to allow Students select a learning institution they qualify.
Story courtesy
Leave your comment