GOVT ANNOUNCES THE END OF HUSTLER FUND LOAN
It has emerged that the government stares at a bleak future concerning the Hustler Fund. This is after it was established that Kenyans have repaid only 5.1% of the loans borrowed from the Hustler Fund since it was launched.
According to reports, this now threatens the sustainability of the kitty launched last week to give low-cost loans to individuals as well as SMEs.

Report indicates that the National Treasury is now betting on adequate repayment of the Hustler Fund. The repayments are expected to supplement resources that will be allocated to the Hustler Fund kitty every financial year.
Ministry of Co-operatives and Micro, Small and Medium Enterprises revealed that borrowers have only repaid Sh190,620,000 out of the total Sh3.69 billion that has so far been disbursed.
It emerges that millions of Kenyans have borrowed and as a result, KShs 184.48 million has been saved. The money has been saved on behalf of the borrowers. Out of all the borrowers, it is only 185,028 individuals who have borrowed the funds more than once.
It is reported that the high borrowing rates is a signal of the huge appetite for loans among citizens. This comes at a time when majority of Kenyans are heaving under high cost of living, forcing them to resort to short-term loans. It further emerges that Kenyans are using the loans to meet their daily needs.
Despite the government charging interest rate of 8% per year or 0.02% daily, it is reported that the low repayment rate could suggests that the government might struggle to recover the seed capital.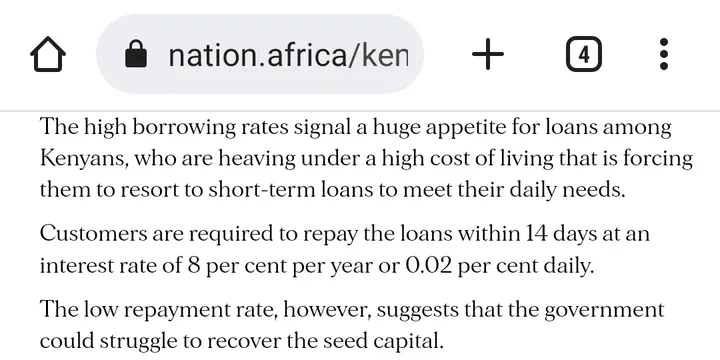 Story courtesy
Leave your comment