"WE WILL CALL FOR RUTO'S RESIGNATION" SAYS MURKOMEN
President Dr William Samoei Arap Ruto is barely 100 days in office but he facing many challenges as he tries to settle in State House.
From the rising cost of living to the rising insecurity, the president is facing an uphill task of ensuring that Kenyans are not hungry and at the same time, the security of the nation is stable.
Nairobi has turned out to be a hot spot as thieves mug innocent Kenyans in broad daylight.
President Dr William Samoei Arap Ruto has been warned about what awaits him in the event that insecurity continues to rise in the country.
According to City Lawyer Ndegwa Njiru, he said that if the president Ruto's government doesn't guarantee security of Kenyans, there will be demonstrations. He added that president Ruto could be called to resign given that no one is indispensable.
"KENYANS @skmusyoka if the government of NABII @WilliamsRuto is not able to guarantee our SECURITY, we SHOULD DEMONSTRATE and let him know that KAZI YA WIZI SI KAZI.We will call for his RESIGNATION…No one is INDISPENSABLE….our security is not NEGOTIABLE.#SECURITYNOW." Tweeted by City Lawyer Ndegwa Njiru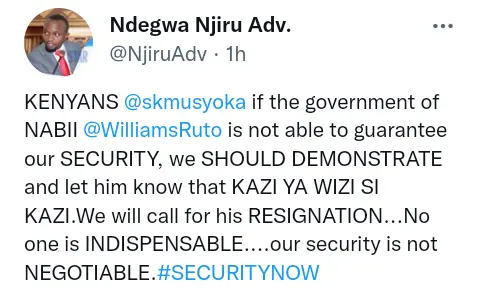 Story courtesy
Leave your comment