MAN ARRESTED FOR 7 YRS FOR CRITICIZING THE PRESIDENT IN A WHATSAPP GROUP.
In the day to day live there are situations that are come on your way that attract an action by the security agencies, A Tanzania man is the latest one to be on the ladder of law enforcing officers in Tanzania.
A Tanzanian man has found himself in trouble after he published a post on his Whatsapp group criticizing Tanzania president Samia Suluhu.
The man is said to have made a platform by the title "Simiyu breaking news where he penned down a defamatory post against the female Tanzanian president.
Simiyu region resident magistrate Martha Mahumbuga has convicted Levinus Kidanabi, he is found guilty of flouting the Tanzania cyber crimes act of 2015 and spreading fake information against the person of the president.
The magistrate has ruled that the victim will have to spend seven years in prison or buy his freedom by paying a fine of 15 Million Tanzanian shillings which amounts to seven hundred and eighty thousand Kenyan shillings (780K).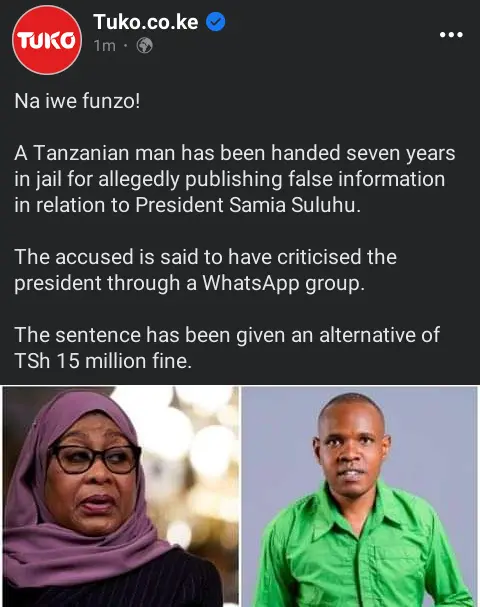 Story courtesy
Leave your comment