PSC 585 SHORTLISTED CANDIDATES DISMISSED BY COURTS
The decision by the Public Service Commission to alter the list of shortlisted PS candidates by adding 109 more names left many Kenyans talking. The move saw a number of politicos emerge with allegations that the PSC was being influenced by external forces.
As Kenyans continue pondering over the issue, legal experts have warned of a huge blunder by the commission that may see the whole list and process dismissed by a court of law should it be challenged.

Speaking to the media, lawyer Danstan Omari said that the failure by the commission to publish the names of all nine thousand ( 9,000) Kenyans who applied for the position is unconstitutional. According to Omari, the commission was supposed to publish all the names of applicants before publishing the shortlisted ones.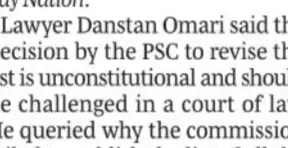 Lawyer Omari also stated that the decision by the commission to extend deadline for publication of shortlisted candidates without any clear reason is unconstitutional. Above all, Omari together with other legal experts opined that the move by the commission to change the list in rush hours is enough ground to stop the process through the court.
Story courtesy
Leave your comment